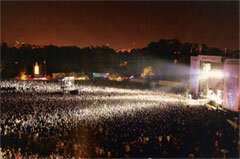 A GIANT THANKS
To all of our fans who
came out to see us in 2005 and 2006!
Here's to a healthy, happy and prosperous
2007 to everyone out there.





Recent Photo:
The Meters perform w/ Red Hot Chili Peppers
at Voodoo Festival 2006 in New Orleans, LA.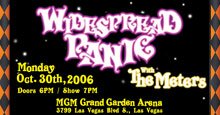 Widespread Panic and The METERS - Oct. 30, 2006
at the MGM GRAND GARDEN, LAS VEGAS, NV

Vegoose Music Festival. Tickets are $36.50, on sale now.
Doors 6PM / Show 7PM. For more information, visit: www.vegoose.com





VARIETY MAGAZINE - Review of Hollywood Bowl show by PHIL GALLO
Easiest Guitar to Master

Despite a reputation as the finest New Orleans funk band ever, the Meters didn't get their full due in the first go-round back in the 1960s and '70s. Their recordings for Josie, Island and Reprise were the pinnacle of dirty Southern funk in an era when glossy, uptown disco ruled the R&B roost, but they were admired by the likes of Paul McCartney and Robert Palmer, who both hired them as sidemen. It's shocking how much better the Meters sound as a whole than any of these musicians do leading their own bands playing the same timeless material.

The quartet had a simmering feud for nearly three decades that they patched up after Katrina hit, and Wednesday's concert at the Hollywood Bowl was their 11th gig together in the last nine months.

They stretched out on songs such as "Cissy Strut" (one of their two top 40 singles), "Look Ka Py-Py" and songs that organist Art Neville took with him to the Neville Brothers after the Meters split in 1976, "People Say" and "Hey Pocky Way."

While the songs remain the same, their sound retains its density and drive due to Art's steady and even ferocious organ playing and George Porter Jr.'s bass playing, which fills gaps the way the best reggae players have done. Zigaboo Modeliste, as good a drummer as the rock world has seen, is inventive and inspiring; at times, he creates the illusion of a backbeat and goes his merry way, filling in spaces with deft attacks on the tom-toms or riding a cymbal, seemingly never duplicating himself during a song except when absolutely necessary.

Guitarist Leo Nocentelli has dramatically altered his sound, going for a hard rock-meets-soul style; technique's far flashier than his swampy or scratchy sounds he on the band's legendary records. The Bowl's screens displayed Nocentelli's dazzling fretwork, and seeing his effort helped adjust the ears to a sound that had more in common with the Isley Brothers than New Orleans.

Band closed with a sultry slice of soul from '74, "It Ain't No Use," which a contempo radio programmer could put on the air today alongside Gnarls Barkley's "Crazy" without a single listener batting an eye. Their music, while it has a distinct sense of place, was quite ahead of its time.

Art, who continues to struggle with back problems and walked across the stage with a cane, did double duty, appearing with his brothers, nephews and a few hired hands. The Nevilles far surpassed their tepid 1997 Bowl appearance by blending just enough uptempo numbers with the ballads of Aaron, who has an album of vintage soul covers due in stores Sept. 19.

The angelic-voiced bear of a man turned in a spine-tingling rendition of Sam Cooke's "A Change Is Gonna Come" and followed with a reggae-tinged spin on Bill Wither's "Ain't No Sunshine" and a perfectly calm version of his 1967 hit "Tell It Like It Is."

also visit : http://www.variety.com | Posted: Thurs., Aug. 17, 2006, 1:55pm PT



47th Annual Newport Folk Festival - Newport RI Press Release - July 06, 2006
We're so very excited to announce that the original and legendary New Orleans superfunk group, THE METERS, have been added to our Sunday, August 6th lineup!! All of the original Meters members (Art Neville, George Porter, Jr, Joseph Zigaboo Modeliste, and Leo Nocentelli) will be on hand to add a serious helping of Mardi Gras groove to the day, joining an already chock-full day of talent- the return of Folk faves The Indigo Girls, Madeleine Peyroux, Keller Williams in a special acoustic performance, Patty Larkin, Folk legend Odetta and many many more, all performing on three different stages in the most scenic venue in the Northeast.


The METERS and The NEVILLE BROTHERS to perform at The Hollywood Bowl
One night only, Wednesday, August 16, catch The METERS and The NEVILLE BROTHERS at the famous Hollywood Bowl. For more information, visit: www.hollywoodbowl.com




JAZZFEST 2006
The METERS return to the New Orleans Jazz and Heritage festival this year on Sunday, April 30. Also catch a special second weekend show as Superfly Presents The METERS with special guest Robert Randolph at the CAC on Saturday, May 6. For more information, visit: www.superflypresents.com

Check back shortly in the photo section for photos of the recent shows in Ft. Lauderdale, FL at The Langerado Festival and The Bankatlantic Center with The Rolling Stones.



SPECIAL ANNOUNCEMENT
THE METERS will perform w/ THE ROLLING STONES : MARCH 12, 2006 - Ft. Lauderdale, FL - Bank Atlantic Center
for ticket information, visit : www.ticketsnow.com


THE METERS to play Langerado Festival MARCH 11!!!
Catch The Meters at The 4th Annual Langerado. Tickets on sale now visit www.langerado.com


AUGUST 4, 2005 ORIGINAL METERS REUNITE!!
ART, ZIGABOO, GEORGE, LEO: NEW ORLEANS SUPERGROUP TO FUNK AGAIN!!
Tourdates and Event Information to follow... stay tuned.


NEW ORLEANS JAZZ & HERITAGE FESTIVAL 2005 GIG SPARKS RE-ESTABLISHMENT OF THE METERS!!!

New Orleans, LA, (August 3, 2005)ÑAfter more that 25 years of separation, Art Neville, Zigaboo Modeliste, George Porter Jr., and Leo Nocentelli are returning to festival, concert and club stages as the supergroup that put New Orleans funk on the map and that continues to exert an unparalleled influence on American roots and popular music: The Meters.

The Meters' unique place as a touchstone for countless jam bands and as one of the most sampled groups in all of hip hop and pop music has kept it relevant to contemporary audiences in a way that few, if any other 70's groups can claim.

The band's first scheduled appearance will take place in Las Vegas on October 30 as part of the upcoming Vegoose event. The Meters will also perform in New York on November 25 at the new Nokia Theatre Times Square. Additional dates are being confirmed at this time.

Details of confirmed shows will be announced soon, as the original Meters, creators of "Sophisticated Cissy," "Cissy Strut," "Ease Back," and many other funk classicsÑare set to join the live music landscape in a way not seen since 1979.

"It is an honor to once again be making music with all of the original Meters," said Zigaboo Modeliste, the band's drummer. "The music that we recorded in the late 60's has been infectious and remains popular today. We are blessed to still be alive and be able to play. I look forward to working with the Corp of Funk Engineers!"

"I am happy to be playing with The Meters again, these are some of the baddest dudes I've been blessed to play with over the years," said founding member Art "Poppa Funk" Neville. "I'll be sittin' down, but the REAL funk will be standing up."

Leo Nocentelli said, "It's a very rare situation when a group, as well as their songs, can be as new today as they were in the 60's. That's exactly what the original Meters are experiencing now. For me, I think that The Meters performing for fans today is something that no one should miss hearing or seeing."

George Porter Jr. said, "It's great, and it's going to be FUNKIN' GREAT!"

The band's appearance at this year's New Orleans Jazz & Heritage Festival in April, one of only a handful of Meters shows during the past two and half decades, was easily the most anticipated set at Jazz Fest 2005 and for many the highlight of the event.